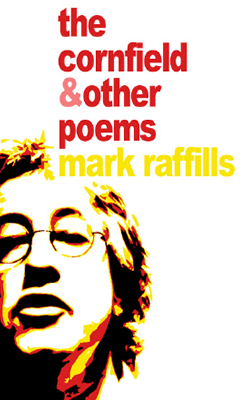 The Cornfield and other Poems
$ 10.00 (includes p&p)
Publisher Description: Raffills has an ear for spoken rhythms and a love of the live gig. Most of the poems in this collection have been performed by their author at concerts and festivals around the country over the past 15 years.
ISBN: 0958259615 I
SBN-13: 9780958259613
Category: Poetry
Format: Paperback
Year: 2005
Pages: 72
Publisher: Phantom Press
Dimensions: 150mm x 210mm
Loved, Mis-loved and Loved Again
Edited with Amy Brooke
Publisher Description: 
 This second book is full of poems and stories about longing and desire and mermaids and Irish girls and places and people and philosophies the poet believes in. "I find joy in the belief that 'love and justice and mercy' are worth whatever it takes to find them.' – Mark Raffills. "His uncluttered and unpretentious delivery makes the most of some striking words" – Stewart Hunt/Nelson Mail.
$10.00 (includes p&p)
ISBN: 0958259623
ISBN-13: 9780958259620
Category: Poetry
Format: Paperback
Year: 2009
Pages: 78
Publisher: Phantom Press
Dimensions: 200mm
Grace & Favour
(Sorry, currently out of print)
$25.50 (+$4.50 p&p)
Publisher Description: Teenage motherhood explored in a new look at the virgin birth of Christ via a series of six paintings by Nelson artist Rose Shepherd and ten poems by Mark Raffills based on Luke's Gospel chapter 1 verses 26-48, commonly referred to as The Annunciation.
ISBN: 0958259615
ISBN-13: 9780958259613
Category: Poetry
Format: Paperback
Year: 2006
Pages: 28
Publisher: Dry Crust Press
Dimensions: 150mm x 210mm